Tuesday Jun 21, 2022
*Big Dumb Inquiries* #8 w/ Ryan Dean from The Dangerous World Podcast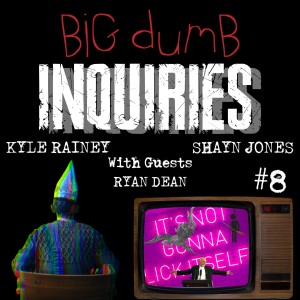 Thank you for tuning in! On this episode of "Big Dumb Inquiries" Shayn and I welcome one of the OG's of the conspiracy podcast game Ryan Dean, host of the killer show "Dangerous World". I introduce The Summer of Pantless Podcasting, which leads to a rather lengthy conversation on "swamp-ass" and potential remedies. Then we ask the question, "Is Pride Month an Excuse to Groom Children?". Next, Ryan brings up the topic of the evasive "Lucis Trust" and World Invocation Day, raising the question "Are Our Leaders and Elites Trying to Invoke the Return of Lucifer?". And finally, I ask one of the most difficult questions of our time, "Why Do the Clinton's Have So Many Dead Friends and Acquaintances?" And for our WILD CARD segment, we ask "Did the President of Afghanistan really flee the country with helicopters full of US cash?". Thank you all for listening, and now, if you'd like to watch Big Dumb Inquiries, follow Shayn or I on Instagram to get updates on when we're streaming the show LIVE on Twitch and Youtube! 
Be sure to check out our amazing guest Ryan:
https://www.patreon.com/DangerousWorldPodcast
YOUTUBE CHANNEL LINK
https://m.youtube.com/channel/UCZAc1An-9So-YI5WB53p6MQ
IG: DangerousWorldPod
EMAIL: DangerousWorldPodcast@gmail.com
Our online store 💻👕 https://dangerousworldstore.com/
Support this podcast: https://anchor.fm/dangerousworldpod/support
As well as my awesome Co-Host, Shayn: 
https://linktr.ee/inquiriesofourrealitypodcast
And check me out!
All of our links to everything: https://linktr.ee/TheBigDumbPodcast
We also now have MERCH!!! Prices were just lowered to make it more accessible to everyone! Standard T-Shirts now just $19.84!  https://tbd-46.creator-spring.com/
SUPPORT THE SHOW: *Updated donation links* https://ko-fi.com/thebigdumbpodcast
PayPal: thebigdumbpod@gmail.com
Cashapp: $TheBigDumbPodcast
Venmo: @TheBigDumbPodcast 
Any donation amount will get your name read on the show, and any amount over $5 will get your name and a note, if you include one, read on the show. Thank you for your support! Value 4 Value will be our model going forward. 
Email: thebigdumbpod@gmail.com
Instagram: @thebigdumb_podcast
Twatter: @TheBigDumbPod
YouTube: https://www.youtube.com/thebigdumbpodcast
Twitch: https://www.twitch.tv/thebigdumbpodcast
FB: https://www.facebook.com/TheBigDumbPodcast
Alt Media United: https://altmediaunited.com/big-dumb/
GET A NEW PODCASTING APP! https://podcastindex.org/apps
And please, whether you listen on Apple Podcasts or somewhere else, go to Apple Podcasts and leave a 5-Star Review! If you leave a 5-Star Review, we will read it on the show and share it on social media, and you can say whatever you want (as long as it's a 5-Star Review!) It helps the show so much, more than you know. 
And the best way to grow our show is by word of mouth, so share this show with your friends, your mom, whoever! 
Thank you all so much! Much love to you all!
Enjoy the show! 
Copyright Disclaimer Under Section 107 of the Copyright Act 1976, allowance is made for "fair use" for purposes such as criticism, comment, news reporting, teaching, scholarship, and research.