Thursday Nov 25, 2021
BONUS: MFTIC "The Great Thanksgiving Turkey Swap with Ryan Dean, Andy Rouse, Jay Henehan, Kyle Rainey and Ron From New England"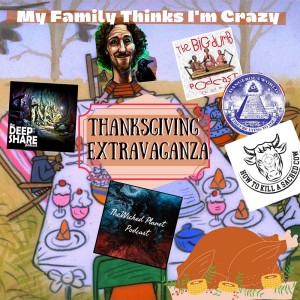 BONUS SHOW ALERT! Thank you all for tuning in to yet another episode! I can't take the credit for this bonus show, as former guest and fellow podcaster Mark Steeves, host of the "My Family Thinks I'm Crazy" Podcast invited me and several other podcasters to join in a Thanksgiving Dinner Turkey Swap Roundtable discussion on the history and origins of the Thanksgiving Holiday. This was a lot of fun and we learned a lot about Thanksgiving and also what it means to each of us, and how some of us like Ryan actually hate turkey (WTF?!) All around this was a great discussion with some awesome people and I hope you all enjoy it and have a happy and wonderful Thanksgiving with your family and friends. And thank you for supporting The Big Dumb Podcast throughout the year and your continued support through the holiday season! We love you all so much and I'm thankful for each and every one of you who listen and all of my fellow creators in this amazing community. 
Please show some love to the fellow podcasters who were a part of this episode:
Mark Steeves "My Family Thinks I'm Crazy" Podcast
https://myfamilythinksimcrazy.com/
IG: @myfamilythinksimcrazy
Ryan Dean "Dangerous World" Podcast
https://dangerousworldstore.com/
https://podcasts.apple.com/us/podcast/dangerous-world-podcast/id1502739330
IG: @dangerousworldpod
Ron From New England "The Wicked Planet Podcast" 
https://podcasts.apple.com/us/podcast/the-wicked-planet-podcast/id1559105071
IG: @ronfromnewengland
Andy Rouse from "The Deep Share" Podcast
https://podcasts.apple.com/us/podcast/the-deep-share-podcast/id1549782847
IG: @thedeepsharepodcast
Jay Henehan from "How To Kill A Sacred Cow"
https://howtokillasacredcow.com/
https://podcasts.apple.com/us/podcast/how-to-kill-a-sacred-cow/id1491587161
IG: @howtokillasacredcow
And you can find ALL OF US and support ALTERNATIVE MEDIA by going to
And check us out! We also now have MERCH!!! Prices were just lowered to make it more accessible to everyone! Standard T-Shirts now just $19.84!  https://tbd-46.creator-spring.com/
All of our links to everything: https://linktr.ee/TheBigDumbPodcast
Alt Media United: https://altmediaunited.com/
DONATIONS: 
PayPal: thebigdumbpod@gmail.com
Cashapp: $KyleRainey
Venmo: @Kyle-Rainey-5 
Official TBD accounts for donations are forthcoming, but those listed above will work for now. Also other methods of supporting will be available in the future, with donation tiers, sustaining donation options, and more! In the meantime, any donation amount will get your name read on the show, and any amount over $5 will get your name and a note, if you include one, read on the show. Thank you for your support! Value 4 Value will be our model going forward. 
Email: thebigdumbpod@gmail.com
IG: @thebigdumb_podcast
Twatter: @TheBigDumbPod
YouTube: https://www.youtube.com/thebigdumbpodcast
FB: https://www.facebook.com/TheBigDumbPodcast
Also, check out my personal Etsy Store: https://www.etsy.com/shop/RaineyDayWoodworkCo
Checkout my Mom's boutique: https://ragsforransom.com/ and use Promo Code "BIGDUMB" for 25% OFF your order!
And please, whether you listen on Apple Podcasts or somewhere else, go to Apple Podcasts and leave a 5-Star Review! If you leave a 5-Star Review, we will read it on the show and share it on social media, and you can say whatever you want (as long as it's a 5-Star Review!) It helps the show so much, more than you know. 
And the best way to grow our show is by word of mouth, so share this show with your friends, your mom, whoever! 
Thank you all so much! Much love to you all!
Enjoy the show! 
Music Credits: 
Interlude
Music: Whistles and Hums
By Fantom
Outro
Music: The Pretender
By Isaac Joel
Released under a Creative Commons Attribution International 4.0 License Thanks To Soundstripe