Tuesday Jan 11, 2022
TBD: Episode #45: "The Big, BIG Swapcast" w/ The Big Gulp Conspiracies Podcast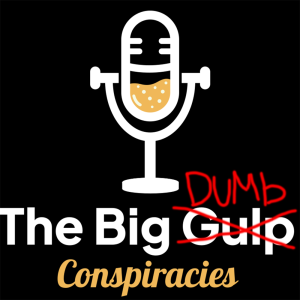 Executive Producers for show #45
None this week! Donate to the show to be thanked and listed as an executive producer!
Thank you for tuning in to the show! And welcome back! After a long hiatus (too long, I know) I am BACK! And 2022 is going to be a great year. On the first official TBD episode of the year, I welcome Wild Bill and Pockets from "The Big Gulp Conspiracies" Podcast for a livestreamed swapcast. We talk alien encounters, the crumbling of the covid narrative, current events, our mutual love for delicious beer, and some of our favorite conspiracy theories. I was so excited to get back into the show, I definitely talked way too much on this one, but it was a ton of fun nonetheless. 
Please check out the boys over at The Big Gulp Conspiracies Podcast:
Instagram - The Big Gulp Conspiracies (@big_gulp_conspiracies) • Instagram photos and videos
Streaming on Podbean and Apple Podcast!!
YouTube - @ Big Gulp Conspiracies - YouTube
And check us out! We also now have MERCH!!! Prices were just lowered to make it more accessible to everyone! Standard T-Shirts now just $19.84!  https://tbd-46.creator-spring.com/
All of our links to everything: https://linktr.ee/TheBigDumbPodcast
DONATIONS: *Updated donation links*
PayPal: thebigdumbpod@gmail.com
Cashapp: $TheBigDumbPodcast
Venmo: @TheBigDumbPodcast 
Other methods of supporting will be available in the future, with donation tiers, sustaining donation options, and more! In the meantime, any donation amount will get your name read on the show, and any amount over $5 will get your name and a note, if you include one, read on the show. Thank you for your support! Value 4 Value will be our model going forward. 
Email: thebigdumbpod@gmail.com
IG: @thebigdumb_podcast
Twatter: @TheBigDumbPod
YouTube: https://www.youtube.com/thebigdumbpodcast
FB: https://www.facebook.com/TheBigDumbPodcast
Also, check out my personal Etsy Store: https://www.etsy.com/shop/RaineyDayWoodworkCo
And please, whether you listen on Apple Podcasts or somewhere else, go to Apple Podcasts and leave a 5-Star Review! If you leave a 5-Star Review, we will read it on the show and share it on social media, and you can say whatever you want (as long as it's a 5-Star Review!) It helps the show so much, more than you know. 
And the best way to grow our show is by word of mouth, so share this show with your friends, your mom, whoever! 
Thank you all so much! Much love to you all!
Enjoy the show!