Thursday Jan 20, 2022
TBD: Episode #47: "The Wizards of World War II" w/ General Lee of The Subconscious Realms Podcast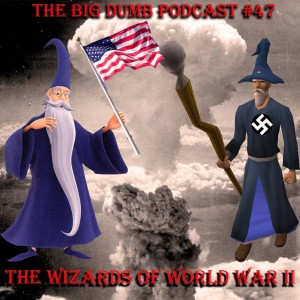 *UPDATED* The audio the first time I uploaded it had a major issue, so I have fixed the problem and reuploaded. Thank you so much, and my apologies! Enjoy the show! 
Executive Producers for Episode #47:
None. Donate to be credited and thanked as an executive producer!
Thank you for tuning in to another episode of TBD! On this episode, we have yet another swapcast with General Lee, host and creator of the "Subconscious Realms" podcast! This was a really fun episode and it was great to get to know Lee and hear his point of view on the world. Fair warning, Lee being "across the pond" gave us a somewhat poor connection, so it might take a minute to get used to the sound of the episode, but it was great nonetheless! On this episode, we talk about what's really going on in the UK, Aliens and UFOs and what they really are, the connection to the Occult, Nazis, multiple dimensions, hollow earth, and much more. We also talked about the real life wizards on both sides of World War Two! 
Please check out General Lee and Subconscious Realms:
Spotify: https://open.spotify.com/show/2Su5DwRSQ5YCuKdV0PYLCT?si=2747d4f5dee542b2
Anchor: anchor.fm/subconscious-realms
Instagram: @subconscious_realms https://www.instagram.com/subconscious_realms/
Twitter: @SubconRealms33  https://twitter.com/SubconRealms33
And check us out! We also now have MERCH!!! Prices were just lowered to make it more accessible to everyone! Standard T-Shirts now just $19.84!  https://tbd-46.creator-spring.com/
All of our links to everything: https://linktr.ee/TheBigDumbPodcast
DONATIONS: *Updated donation links*
PayPal: thebigdumbpod@gmail.com
Cashapp: $TheBigDumbPodcast
Venmo: @TheBigDumbPodcast 
Other methods of supporting will be available in the future, with donation tiers, sustaining donation options, and more! In the meantime, any donation amount will get your name read on the show, and any amount over $5 will get your name and a note, if you include one, read on the show. Thank you for your support! Value 4 Value will be our model going forward. 
Email: thebigdumbpod@gmail.com
IG: @thebigdumb_podcast
Twatter: @TheBigDumbPod
YouTube: https://www.youtube.com/thebigdumbpodcast
Twitch: https://www.twitch.tv/thebigdumbpodcast
FB: https://www.facebook.com/TheBigDumbPodcast
Also, check out my personal Etsy Store: https://www.etsy.com/shop/RaineyDayWoodworkCo
And please, whether you listen on Apple Podcasts or somewhere else, go to Apple Podcasts and leave a 5-Star Review! If you leave a 5-Star Review, we will read it on the show and share it on social media, and you can say whatever you want (as long as it's a 5-Star Review!) It helps the show so much, more than you know. 
And the best way to grow our show is by word of mouth, so share this show with your friends, your mom, whoever! 
Thank you all so much! Much love to you all!
Enjoy the show!