Monday Mar 14, 2022
TBD: Episode #55: "Oh, Chinada!" w/ TOMCAT from The Strange Brew Podcast!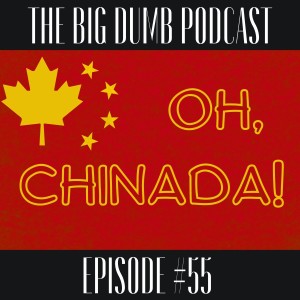 Thank you for tuning in to another episode of TBD! On this episode I welcome TOMCAT, host of the "Strange Brew Podcast". Unfortunately, due to my excitement to talk to TomCat, I forgot to record from the very beginning of the conversation on all backups, and even more unfortunately, the file that had all the audio was lost when my computer crashed, and my dumbass didn't save the file initially. My apologies to TomCat and all of the listeners out there! Regardless, this was a fun conversation and I can't wait to have TomCat back on again real soon. We talked about all the madness going on around in the world, particularly in his home country of Canada, AKA Chinada!
Please check out TOMCAT and the "Strange Brew Podcast!"
Follow all the madness on social media!
Support us on Patreon! www.patreon.com/strangebrewpodcast
Strange brew's INSTAGRAM https://www.instagram.com/strangebrew...​
Strange brew's FACEBOOK: www.facebook.com/strangebrewpod
TOMCAT- https://www.instagram.com/tomcathipho...​
Strange Brew's Twitch @ strangebrewttv
And check me out! We also now have MERCH!!! Prices were just lowered to make it more accessible to everyone! Standard T-Shirts now just $19.84!  https://tbd-46.creator-spring.com/
All of our links to everything: https://linktr.ee/TheBigDumbPodcast
DONATIONS: *Updated donation links*
PayPal: thebigdumbpod@gmail.com
Cashapp: $TheBigDumbPodcast
Venmo: @TheBigDumbPodcast 
Other methods of supporting will be available in the future, with donation tiers, sustaining donation options, and more! In the meantime, any donation amount will get your name read on the show, and any amount over $5 will get your name and a note, if you include one, read on the show. Thank you for your support! Value 4 Value will be our model going forward. 
Email: thebigdumbpod@gmail.com
Instagram: @thebigdumb_podcast
Twatter: @TheBigDumbPod
YouTube: https://www.youtube.com/thebigdumbpodcast
Twitch: https://www.twitch.tv/thebigdumbpodcast
FB: https://www.facebook.com/TheBigDumbPodcast
Also, check out my personal Etsy Store: https://www.etsy.com/shop/RaineyDayWoodworkCo
And please, whether you listen on Apple Podcasts or somewhere else, go to Apple Podcasts and leave a 5-Star Review! If you leave a 5-Star Review, we will read it on the show and share it on social media, and you can say whatever you want (as long as it's a 5-Star Review!) It helps the show so much, more than you know. 
And the best way to grow our show is by word of mouth, so share this show with your friends, your mom, whoever! 
Thank you all so much! Much love to you all!
Enjoy the show! 
Copyright Disclaimer Under Section 107 of the Copyright Act 1976, allowance is made for "fair use" for purposes such as criticism, comment, news reporting, teaching, scholarship, and research.