Tuesday Apr 05, 2022
TBD: Episode #58: "What's The Point?" SWAPCAST w/ Mark from My Family Thinks I'm Crazy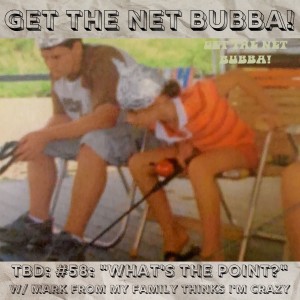 Thank you so much for tuning in to another episode of TBD! On this episode, we welcome back Mark, host of the globally topped ranked "My Family Thinks I'm Crazy" podcast for another SWAPCAST extravaganza! Mark is also the creator of Alt Media United and booker for many popular podcasts including Tin Foil Hat With Sam Tripoli and Conspiracy Castle with Alex Stein. We had a refreshing conversation, catching up on how things have been, talking about Mark's journey to where he's at now, and a few mysteries and conspiracies of course. We also talked about true mysticism and ways to raise our own consciousnesses, and our own struggles with navigating the simulation while trying to ascend! It was a great conversation and it was really great to catch back up with Mark. 
Please check out Mark, My Family Thinks I'm Crazy, and all the shows on Alt Media United!
MFTIC Merch is Here for 2022!
https://mftic-podcast.creator-spring.com
Share This Episode: https://share.transistor.fm/s/4a184744  
Join us on Telegram
Leave me a message On Telegram!
For Exclusive My Family Thinks I'm Crazy Content: Only 3$ get 50+ Bonus Episodes, Sign up on our Patreon For Exclusive Episodes. Check out the S.E.E.E.N.
or on Rokfin
@MFTICPodcast on Twitter
@myfamilythinksimcrazy on Instagram, Follow, Subscribe, Rate, and Review we appreciate you!
https://www.myfamilythinksimcrazy.com
https://altmediaunited.com/my-family-thinks-im-crazy/
Listen to Every AMU with this link. https://lnns.co/pI5xHeyFdfg
And check me out! We also now have MERCH!!! Prices were just lowered to make it more accessible to everyone! Standard T-Shirts now just $19.84!  https://tbd-46.creator-spring.com/
All of our links to everything: https://linktr.ee/TheBigDumbPodcast
DONATIONS: *Updated donation links*
PayPal: thebigdumbpod@gmail.com
Cashapp: $TheBigDumbPodcast
Venmo: @TheBigDumbPodcast 
Other methods of supporting will be available in the future, with donation tiers, sustaining donation options, and more! In the meantime, any donation amount will get your name read on the show, and any amount over $5 will get your name and a note, if you include one, read on the show. Thank you for your support! Value 4 Value will be our model going forward. 
Email: thebigdumbpod@gmail.com
Instagram: @thebigdumb_podcast
Twatter: @TheBigDumbPod
YouTube: https://www.youtube.com/thebigdumbpodcast
Twitch: https://www.twitch.tv/thebigdumbpodcast
FB: https://www.facebook.com/TheBigDumbPodcast
Alt Media United: https://altmediaunited.com/big-dumb/
GET A NEW PODCASTING APP! https://podcastindex.org/apps
Also, check out my personal Etsy Store: https://www.etsy.com/shop/RaineyDayWoodworkCo
And please, whether you listen on Apple Podcasts or somewhere else, go to Apple Podcasts and leave a 5-Star Review! If you leave a 5-Star Review, we will read it on the show and share it on social media, and you can say whatever you want (as long as it's a 5-Star Review!) It helps the show so much, more than you know. 
And the best way to grow our show is by word of mouth, so share this show with your friends, your mom, whoever! 
Thank you all so much! Much love to you all!
Enjoy the show! 
Copyright Disclaimer Under Section 107 of the Copyright Act 1976, allowance is made for "fair use" for purposes such as criticism, comment, news reporting, teaching, scholarship, and research.