Monday May 30, 2022
TBD: Episode #69: "What To Do When Things Get Spicy" w/ Adam from Debra Gets Red Pilled & Matt The Spice King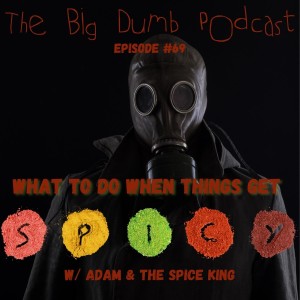 Thank you so much for tuning in to the 69th episode of TBD! On this episode, I welcome Adam from the "Debra Gets Redpilled" podcast, and Matt, founder of Granite State Spice Blends, to talk about some practical steps people can take to prepare and secure themselves and their families in the event of difficult or apocalyptic times. This was a great chat with some guys who are way more prepared and secure than I am, so it was great to hear what things they've done, and to get some advice as to what more I can do. We also talk about mindset, and not letting fear control you or stall you from living your life. This was a fun one, enjoy!
Check out Adam and "Debra Gets Redpilled" 
debragetsredpilled@protonmail.com
DGRP ODYSEE
DGRP YouTube
DGRP Twitter
DGRP Merch
Telegram Group Chat
DGRP Paypal
Venmo: @adam-alamano 
CashApp: @$ALLSKREWEDUP
CRYPTO ACCEPTED
Also be sure to check out Matt and Granite State Spice Blends! 
And check me out!
All of our links to everything: https://linktr.ee/TheBigDumbPodcast
We also now have MERCH!!! Prices were just lowered to make it more accessible to everyone! Standard T-Shirts now just $19.84!  https://tbd-46.creator-spring.com/
SUPPORT THE SHOW: *Updated donation links* https://ko-fi.com/thebigdumbpodcast
PayPal: thebigdumbpod@gmail.com
Cashapp: $TheBigDumbPodcast
Venmo: @TheBigDumbPodcast 
Any donation amount will get your name read on the show, and any amount over $5 will get your name and a note, if you include one, read on the show. Thank you for your support! Value 4 Value will be our model going forward. 
Email: thebigdumbpod@gmail.com
Instagram: @thebigdumb_podcast
Twatter: @TheBigDumbPod
YouTube: https://www.youtube.com/thebigdumbpodcast
Twitch: https://www.twitch.tv/thebigdumbpodcast
FB: https://www.facebook.com/TheBigDumbPodcast
Alt Media United: https://altmediaunited.com/big-dumb/
GET A NEW PODCASTING APP! https://podcastindex.org/apps
And please, whether you listen on Apple Podcasts or somewhere else, go to Apple Podcasts and leave a 5-Star Review! If you leave a 5-Star Review, we will read it on the show and share it on social media, and you can say whatever you want (as long as it's a 5-Star Review!) It helps the show so much, more than you know. 
And the best way to grow our show is by word of mouth, so share this show with your friends, your mom, whoever! 
Thank you all so much! Much love to you all!
Enjoy the show! 
Copyright Disclaimer Under Section 107 of the Copyright Act 1976, allowance is made for "fair use" for purposes such as criticism, comment, news reporting, teaching, scholarship, and research.